Want to find your perfect pair of jeans? Look no further than this wearer's guide...
There are so many styles, from flared and boyfriend to skinny and patterned. Jeans are the most acceptable form of wear for almost any occasion. They are an essential part of everyone's wardrobe, but how many pairs do you own and how many of those pairs actually fit and flatter your body shape properly?
Not being able to find a style that works on you can be a soul-destroying and exhausting shopping mission . A great pair of jeans can really go everywhere from the supermarket, to a kids party or dinner with a client. Thinking outside your comfort zone can result in jeans that lift your bottom, elongate the leg, shape the thighs and cover a multitude of sins.
Here are some tips to follow when shopping for jeans:
Correctly angled pockets on the back of the jeans can make a small bottom more curvy and a bigger one more shapely.
The right length leg can make all the difference to your leg, so think about getting them shortened if they are too long.
Don't go by the size on the label, jeans will only look fabulous if they fit right. So ensure you are going with fit rather than trend.
Make sure you have a couple of pairs of jeans for every occasion- one to dress up and one to dress down.
Very dark denim is the most flattering, avoid distressed looking jeans. Faded bleach spots draw the eye to that part of your body, ultimately making it look bigger.
Try on jeans while wearing the shoes you plan on wearing most often with your them.
Ensure you are choosing the right pair of jeans that flatter your figure.
How to wear skinnies…
| | |
| --- | --- |
| Surprisingly flattering and no longer a trend item but a wardrobe staple. Wear with Breton tee, masculine coat, flat ankle boots and small satchel bag. Check out Jessica Alba rocking her skinnies… | |
How to wear patterned…
| | |
| --- | --- |
| More edgy and fun but with the right top can look low-key and very understated. Try neutral tops, plains flats or boots and a biker jacket. Kate Moss even looks fab in the rain in her leopard print jeans… | |
How to wear the boyfriend…
| | |
| --- | --- |
| The most versatile jean shape, easy to be casual weekend wear and look just as good with turn-ups and a pair of statement heels. Wear with a printed shell top or striped shirt button up to the neck and a preppy brown bag. Eva Mendes looks stylish in hers… | |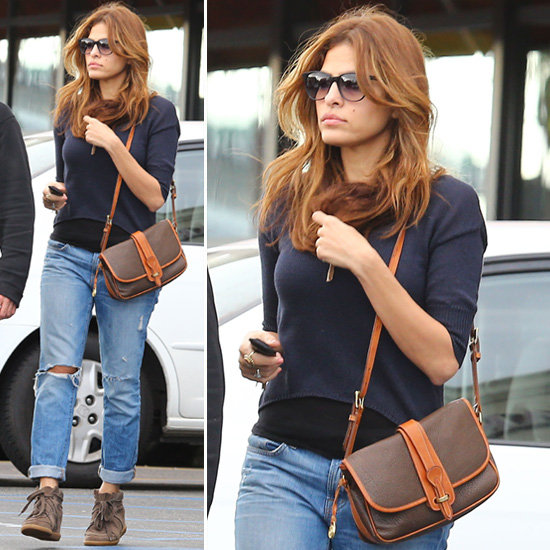 How to wear the flared…
| | |
| --- | --- |
| This it the perfect smart jean that can length the leg, but only when worn with heels. Try Chelsea boots with a low heel, a smart tux jacket and a structured top for that modern look. Miranda Kerr gets it right here… | |