Firstly it's true to say that I am totally obsessed with coats!
As an ex-coat buyer I am full of joy when every winter comes around and I can but yet another new addition to my collection. My wardrobes are unfortunately not getting any bigger whilst my coat collection is slowly getting out of control!!
Not all outerwear is created equal, and if you've ever dressed up for an evening out, only to then toss on your everyday puffer coat, then you know what I'm talking about! There are actually tons of options for your winter-wear; an amazing coat can upgrade a less than stellar outfit. At the same time, the wrong coat can ruin a best-dressed list worthy look.
When it comes to outerwear, fit and proportion are everything – whether it's a £5000 designer label, or a £50 vintage find, if it's not the right coat for your body shape (paired with the wrong outfit), all you'll be left with is a big zero! So whilst checking out the trends for this season on coats I also had to ask myself, which coat style would suit my body shape best?
To make things simple, I've separated body shapes into 4 general categories: Apple, Pear, boyish and hourglass. With also some tips for Tall and petite gals too.
Here are my tips so you can rock the right coat for your shape -
APPLE - broad shoulders & narrower hips
Coats that nip in at your waist or are belted will give the illusion of a smaller waist and trim your tummy. Look for coats that have a deep v neck line as this will draw attention up top and distract from the roundness of a fuller figure. The right length coat for an apple should fall right below the waist to mid-thigh and never at the widest part of your hips because it will make your hips look wider. Another tip is to stay away from shoulder pads as you don't need to accentuate your shoulders further.
PEAR - narrow shoulders, wide hips & thighs
Pear shaped body types tend to have sloped shoulders so coats with shoulder pads will enhance your shoulders and balance them out with your hips. Pear shaped gals should stick with coats that are fitted around the top half and looser around the bottom half. Double breasted coats will draw attention upwards and the fitted styling will give the desired balanced look. Avoid shorter coats that end at your bum as this will draw the eye to your large middle section with a horizontal line.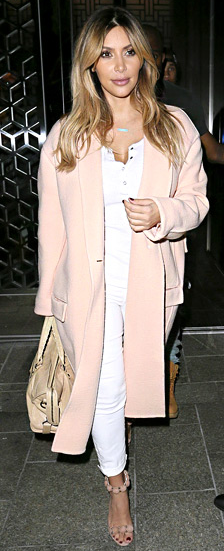 BOYISH - narrow hips & smaller bust
For women with a small bust size, look for tailored coats with exaggerated collars. A coat that's cropped to mid-thigh and has beautiful little tailored shoulders and big curvy lapels will give you a feminine shape. If you want to give the illusion of wider hips, then wear a coat that flares out from the waist and stops at the hip. Using a belt on your coat will also give the same affect.

HOURGLASS - bust&hips nearly the same size
Fitted, tailored coats will be one of the best choices for an hourglass figure. It's well fitted shape will slim down into the waist and will emphasize your figure beautifully. As an hour glass, you are able to pick any length tailored longer coats especially with belts or small pleated waist detail.
TALL
For Tall shaped gals, I recommend looking for a longer, loose, oversize drop-shoulder or cocoon coat, which works best on a taller frame, whether you're curvy or boyish.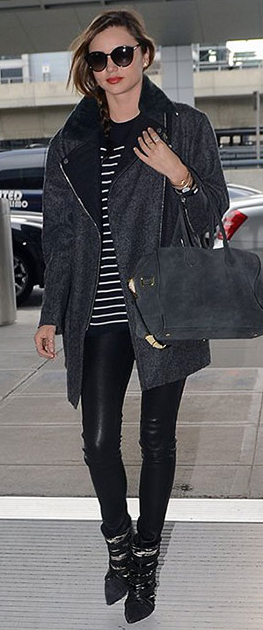 PETITE
Petite girls should do the opposite and make sure you avoid the voluminous shapes. A cropped fitted Peacoat is the ultimate shape if you are on the shorter side.